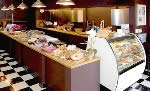 410-263-6941
Monday - Friday
8 am to 7 pm
Saturday
9 am to 4 pm
Food That Will Truly Please Your Palate

Here is a small selection of Palate Pleasers' catered appetizers, salads and entrees. A complete Palate Pleasers printable catering menu is available for download.
These samples and menus are suggestions only. Please call us at 410-263-6941 with your favorite choices, so that we can help you plan a complete menu.
Tart Michelle – a mini tart with goat cheese, cherry tomato and mint
Tuscan Bread – with warm Stilton and pear
Golden Polenta – with roasted vegetables
Crostini Misti – crostini with mixed toppings
Hot Mushroom Caps – with pesto, spinach or sausage
Gourmet Pizza – homemade white pizza with assorted toppings – served bite-size
Phyllo Triangles–stuffed with wild mushrooms, feta cheese, spinach or curried chicken and walnuts
Quesadillas – cheese, black bean, or shrimp-served with guacamole or salsa
Duck Profiteroles – herb profiterole with a duck mousse filling
Mini Maryland Crab Cakes – served warm with cocktail sauce
Mini Salmon Cake – served with a dill sauce
Appetizer Table Ideas
Antipasto – a beautiful and delicious choice for a platter or table.
Fresh vegetable arrangement with our homemade basil dip
Marinated or roasted vegetables such as artichoke hearts, mushrooms,
olives and red and yellow bell peppers
Italian meats such as prosciutto, salami or sausages
Spreads such as black or green olivada, hummus or baba ghannouj
Cheese roulade with roasted peppers provencal and pita chips
Goat cheese marinated in salsa rosa
Phyllo triangles filled with mushroom, spinach, cheese, or chicken curry
Stuffed mushroom caps with pesto, sausage or spinach
Crostini misti topped with spreads such as pate, mushroom, white bean, sun-dried tomato or olivada
Brie served as phyllo wrapped, warm apple and walnuts, or summer with
raspberry and apricot sauces–served with crackers or French bread
Heart-shaped cheese garnished with pecans and green apples
Assorted imported cheeses with grapes
Layered cheese torta with pesto and sundried tomatoes
Sally's Salad – mixed greens with roasted red and yellow peppers, toasted walnuts, crumbled goat cheese, fresh pears and pomegranate seeds (in season) with a homemade vinaigrette.
Teena's Salad – mesclun and Belgian endive with orange supremes, crispy pecans and a maple orange vinaigrette.
Italian Salad – mixed greens with sliced mushrooms, hearts of palm, artichoke hearts and shaved parmesan with a red wine vinaigrette.
Gourmet Greek Salad – baby greens with crumbled feta cheese, shaved red onions and yellow and red pear tomatoes with a balsamic vinaigrette.
Caesar Salad – crisp romaine lettuce tossed with homemade croutons, parmesan cheese and our homemade Caesar dressing.
Summer Salad – mixed greens topped with roasted almonds, fresh raspberries, and crumbled goat cheese with a raspberry vinaigrette.
Winter Salad – mixed greens topped with roasted walnuts, dried cranberries and crumbled bleu cheese with a honey vinaigrette.
French Salad – mixed greens with shredded carrots, tomatoes, sliced cucumbers and crumbled hard boiled egg with a creamy Dijon vinaigrette.
Antipasto Plate – roasted peppers, marinated mushrooms and olives, Tuscan white beans or hummus and bruschetta with goat cheese.
Pecan crusted salmon with Sally's salad, golden polenta, roasted veggies and bread
Rack of lamb with Teena's salad, mashed potatoes, creamed spinach and bread
Shrimp scampi with Italian salad, springtime spagattini, stuffed tomatoes and bread
Filet of beef with French salad, potato custards, haricot verts and bread
Crab cakes with Summer salad, new potato salad, Cole slaw and bread
Paella with Gourmet Greek salad, grilled vegetables and bread
Stuffed chicken breast with Teena's salad, rice pilaf, asparagus and bread
Chicken penne artichoke casserole with Caesar salad and bread